You've found yourself here because you've got questions about your ring size. You've probably googled until your fingers hurt and are still no futher forward. Don't worry, you are not alone in this minefield - our most common questions come from customers that find the concept of sizing difficult and I totally understand why! I've put together a little FAQ of the most common questions that we get asked to try and help you determine your size in the easiest way possible. 
No worries, our guide to standard conversions are below for the most common local sizes that we use. All sizing conversions are APPROXIMATE as we use UK sizes and these do not always exactly translate. We do have a UK ring sizer that will give you the exact UK sizes which can be found in the link at the bottom of the page.
UK J = US 4 5/8 - EU 49
UK K = US 5 1/8 - EU 50 
UK L = US 5 1/2 - EU 51 3/4 
UK M = US 6 - EU 52 3/4 
UK N = US 6 1/2 - EU 54
UK O = US 7 - EU 55 1/4 
UK P = US 7 1/2 - EU 56 1/2 
UK Q = US 8 - EU 57 3/4 
UK R = US  8 5/8 - EU 59 
UK S = US 9 1/8 - EU 60 1/4 
UK T = US 9 5/8 - EU 61 1/2 
The simplest answer is that its down to the shape of your finger and where fat is stored on the hands.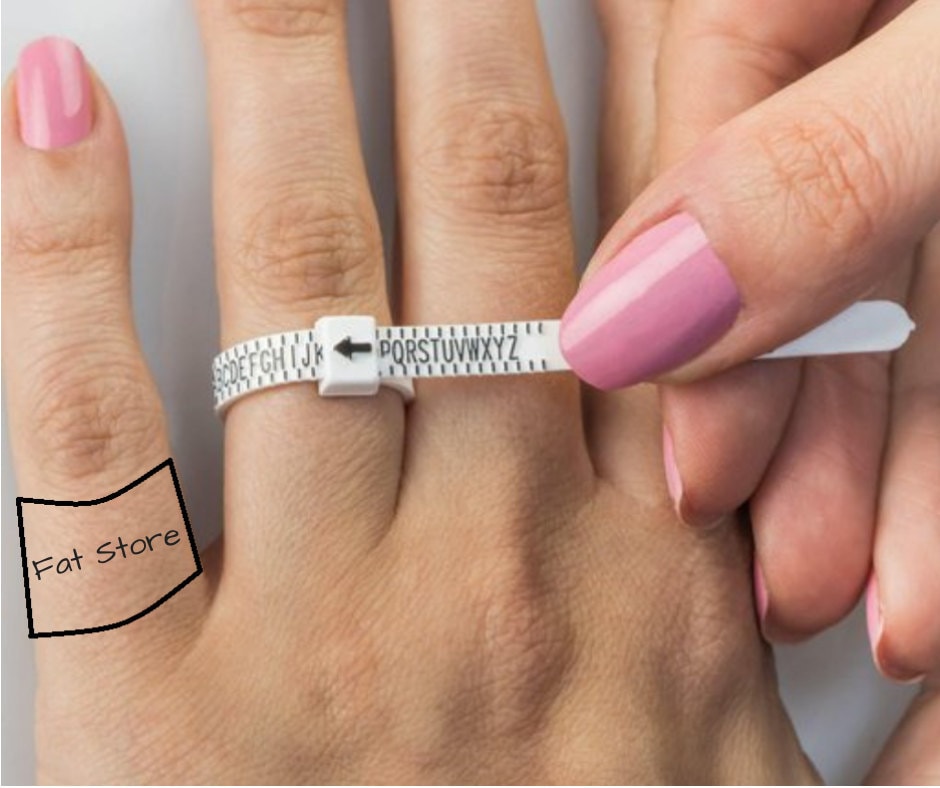 If you have a quick feel of your finger (squeezing firmly from the base near the knuckle and moving slowly upwards to the middle joint) you'll notice that there is a small fat store. It doesn't start at the very bottom of the finger - it starts a few millimeters up and continues to close to the middle joint. This fat store is where problems happen for wider rings. 
To demonstrate this, make a fist. Turn your hand toward you so you can see your nails and look at the shape of the finger that you just felt. Do you see how your finger flares out slightly the closer that you get to the middle joint? The bottom of your finger remains the same size and shape, but the closer that you get to the middle joint, the wider your finger gets. This is where the problem lies with wider rings as most people don't take this "fat flare" into consideration when sizing for the larger rings. It can often add up to 2 sizes difference to your standard size. 
When people measure for a standard 3-6mm ring, they measure at the very base of the finger - close to the knuckle. This is absolutely fine for a standard ring, as it doesn't really catch much of the fat store. It sits comfortably underneath. 
For wider rings, you should measure where I have placed the ring sizer in the picture above. This makes sure that the "Fat Flare" is taken into consideration so that wider rings fit comfortably during day to day wear. 
I'd always recommend visiting a local jeweller first of all to get your local size, however I do understand that this isn't always possible for loads of different reasons. 
I have seen many ways of "measuring" your ring size at home using all manner of random implements from a measuring tape to dental floss, but having never tried any of these I'd be hesitant to recommend any of these particular methods just in case it isn't overly accurate! 
We sell the ring sizer shown in the pictures above. This plastic multisize ring gauge is ideal for self finger sizing. The multisizer works like a belt, forming a ring and then placing over the finger, which is then adjusted to give a comfortable fit. You would then simply read off the indicated size. We find this to be a much more accurate representation of size than dental floss ;)
You can buy our reusable Multisizer here.